Back to

Prices & Markets
Subscribe to Prices & Markets e-newsletter
For in-depth red meat market news, information and analysis.
SIGN UP
Lamb slaughter hits seven-year low in latest quarter
25 February 2021
Key points:
Lamb slaughter fell to a seven-year low for the December quarter
Heavier lamb carcase weights offset decline in slaughter
Sheep slaughter fell to a record low for the December quarter
Lamb slaughter and production
The latest ABS data for the December 2020 quarter reported national lamb slaughter at 5.4 million head, the lowest December quarterly average since 2013.
Spring supplies eased on 2019 levels last year, off the back of heightened restocker intent, with much of the decline in national slaughter driven by Victoria. The eastern states received widespread rainfall in the December quarter, boosting water stores and pasture cover, priming producers to increase stocking rates. While slaughter numbers also eased in WA, this is largely a reflection of supplies being absorbed by eastern states buyers. Large parts of WA remain drought affected, which has seen heightened numbers of lambs being brought forward, with intentions to rebuild remaining subdued.
Despite reduced slaughter, heavier carcase weights offset the lower throughput with national lamb production lifting to 129,297 tonnes carcase weight (cwt), up 13% on the September quarter.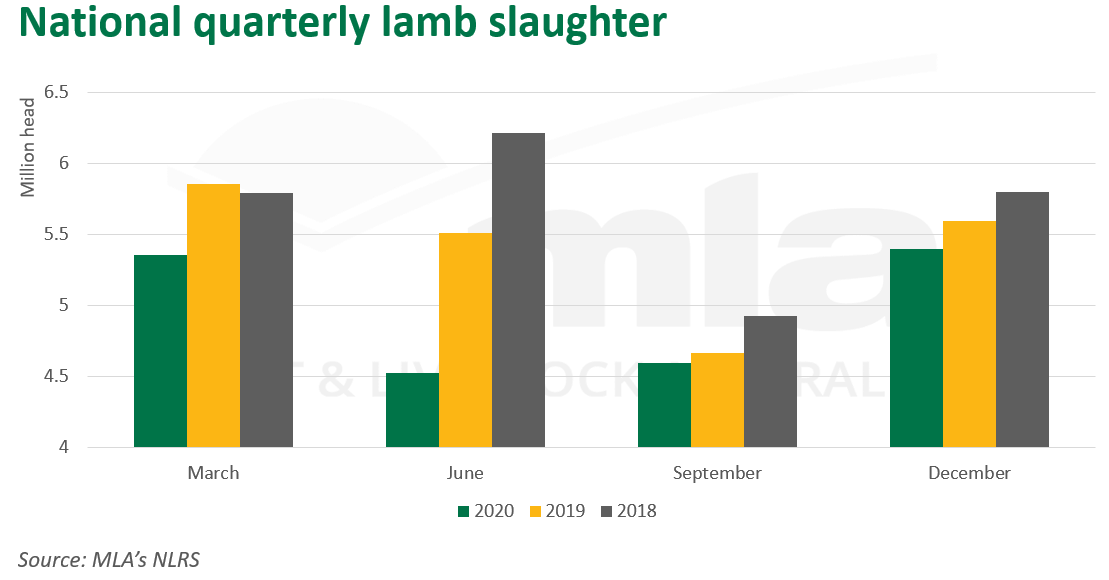 Sheep slaughter and production
For the December 2020 quarter, national sheep slaughter fell to the lowest level on record, at just below 1.6 million head. Producers were in a better position to capitalise on strong mutton prices throughout the year, which saw the tail end of flocks being brought forward, while the productive portions were retained for restocking. The latter part of the year therefore saw sheep slaughter tapering off, in response to tighter supplies.
The sharp decline in slaughter saw production push down to 41,000 tonnes cwt, almost halving on the December 2019 quarter. Unlike lamb production, which found support from heavier carcase weights, the lift in sheep carcase weights was not enough to offset the decline in total production.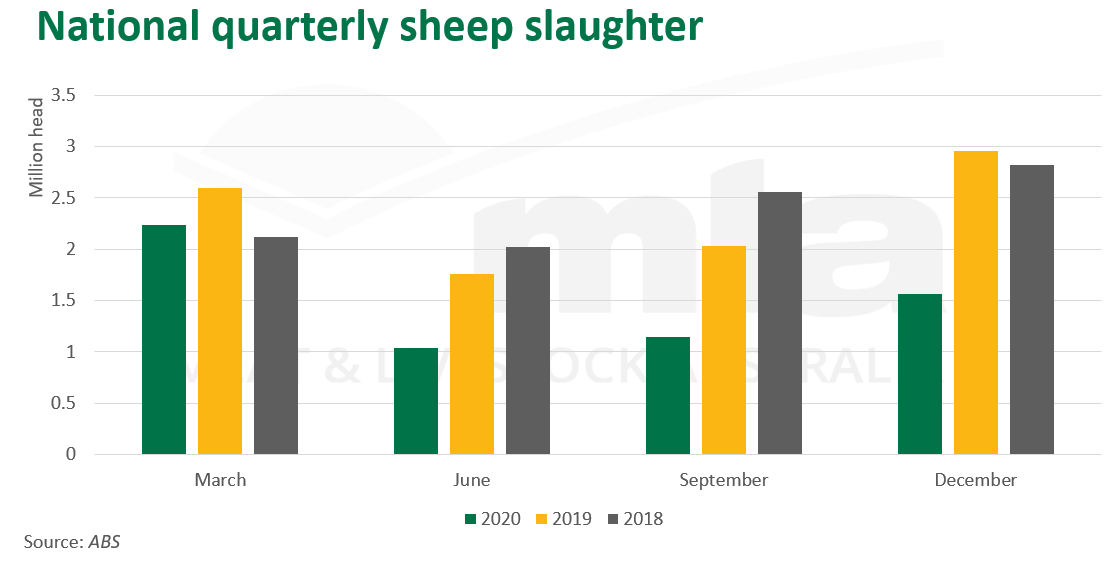 © Meat & Livestock Australia Limited, 2021