Back to

Prices & Markets
Subscribe to The Weekly e-newsletter
For in-depth red meat market news, information and analysis.
SIGN UP
China domestic flock expansion has potential to dampen imported sheepmeat demand
Key points:
China's ASF-induced protein shortage and high sheepmeat prices have encouraged Chinese sheep herders to expand flocks
Covid-19 effectively shut down the foodservice sector, the key channel for Australian sheepmeat consumption, just prior to the usual peak consumption season over the Lunar New Year
Forecast tighter supply in Australia and higher prices will limit China import demand.
ASF-driven protein shortage and record prices trigger China domestic flock expansion
The devastating impact of African Swine Fever (ASF) on China's pork industry has resulted in a massive protein shortfall in the country, widely estimated at 20-25 million tonnes cwt, around half of the pork consumed in 2017. As the world's largest producer of the country's most favoured meat, pork prices in China have recorded unprecedented hikes, with a knock-on effect to all proteins, sheepmeat included. China pork prices more than doubled throughout 2019, while sheepmeat prices increased 18%.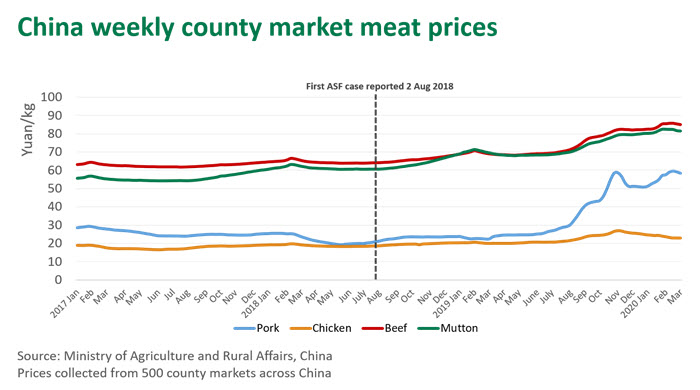 MLA has previously highlighted the uniquely volatile and cyclical nature of China's sheepmeat import demand. The large number of small herders and relatively short life cycle of sheep and goats makes China particularly susceptible to large swings in under and over supply.
The record-high China market sheepmeat prices reached during the second half of last year tempted smaller herders around the country to increase their sheep and goat flocks. Current GIRA estimates forecast the national sheep flock will increase 6.7% (or 11 million head) from 164 million head in 2019 to 175 million head in 2020. Forecasts have indicated that this will equate to an additional 175,000 tonnes cwt of sheepmeat being produced, taking total domestic production up to 2.64 million tonnes cwt.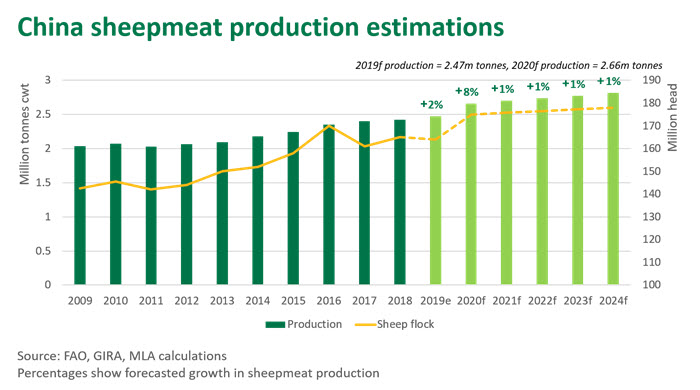 At the same time, China's protein shortage triggered China to ramp up imports of all proteins during 2019, including sheepmeat. In terms of all total meat consumed in China, sheepmeat plays a relatively small role, accounting for just 6% of consumption. However, given the size of the market, this still accounts for almost 3 million tonnes cwt. Supplying 44% of China's imported sheepmeat in 2019, Australia plays a relatively small role within this total consumption.
Chinese consumption of sheepmeat this year is forecast to lift by 82,700 tonnes cwt to total just shy of three million tonnes. With such a prominent lift in production expected, the production gap (filled by imported product) is set to shrink by approximately 90,000 tonnes cwt this year.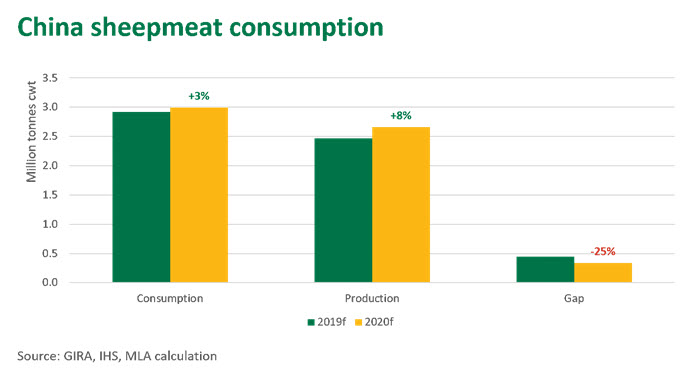 Covid-19 outbreak in China caused sharp drop in sheepmeat consumption resulting in some oversupply
China's sheepmeat imports peaked in December 2019, one month prior to Lunar New Year, reaching an all-time record monthly high of 37,300 tonnes. Lunar New Year is typically the peak consumption time for sheepmeat, as families and friends get together over banquet meals both at home and at restaurants, with hot pot a particular favourite with diners during this cold season. Estimates are that around 60% of China's sheepmeat consumption occurs outside the home, which is significantly higher in urban areas, where the majority of imported sheepmeat is consumed. MLA estimates that over 90% of Australia's sheepmeat exports to China are utilised in the foodservice sector, particularly in the hot pot segment.
However, the outbreak of Covid-19 in Wuhan reached a critical stage just one week before the Lunar New Year holiday celebrations, when the Wuhan Lockdown began on 23 January, with ripple effects across the whole country. The foodservice sector across the country effectively shut down within a few days, which saw a significant quantity of sheepmeat remain in storage, resulting in a short term oversupply of product. While foodservice demand is expected to resume, it will take some time to return to normality.
China is Australia's top sheepmeat market but New Zealand is more exposed
In 2019, Australia's sheepmeat exports to China reached an all-time record high for lamb (71,200 tonnes swt), mutton (81,500 tonnes swt) and offal (2,200 tonnes swt), valued at a total of A$1.25bn. A record volume of Australian frozen sheepmeat tripe (11,400 tonnes swt) was also exported to Hong Kong, much of which is widely understood to be destined for the mainland.
While China was the single largest sheepmeat export destination in 2019 for both Australia and New Zealand, Australia is much less reliant on the China market.
New Zealand has long dominated China's sheepmeat import supply, boosted since 2016 by the China-NZ FTA, zero tariffs on exports and increased approved plant listings (NZ has 39 approved plants, including 6 for chilled sheepmeat, compared to Australia's 18 plants and 1 for chilled).
Given China's import demand volatility, Australia, with a more diversified export portfolio, is in a better position to manage the downside risks than New Zealand.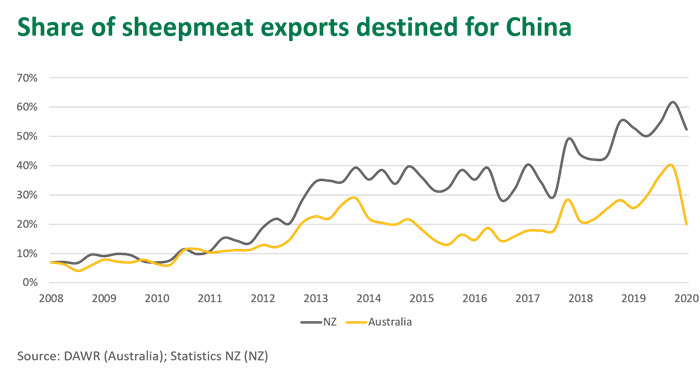 Australian sheep prices falling out of sync with NZ
Being the prominent suppliers of the world's imported sheepmeat market, New Zealand and Australian lamb/sheep prices typically follow a similar trend line and since 2018, prices in both markets have been buoyed by ASF-fuelled Chinese demand.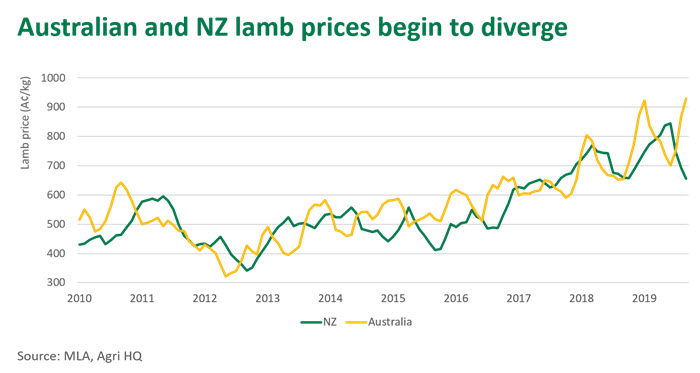 As mentioned earlier, New Zealand has become heavily geared towards the Chinese market and with the sudden recent drop in Chinese demand New Zealand lamb prices have fallen dramatically in the past month.
However, the widespread rainfall seen across Australia so far this year has driven the opposite outcome with lamb prices reaching new records and de-coupling significantly from New Zealand. While the price spread between the two countries has become rather significant, it seems unlikely that this can continue for too long given the similar nature of Australian and New Zealand lamb and similar markets they sell into globally.
While export prices to China have recently been priced at a slight premium relative to global terms, this has certainly not always been the case. In 2015-16, demand growth in China slowed as their sheepmeat production levels lifted. With the recent growth in China's sheep flock, this scenario may be expected to reappear as a larger proportion of sheepmeat consumption is filled through domestic production, however the ASF led protein deficit is likely to mitigate this.
Positive long-term sheepmeat import demand outlook but volatility along the way to continue
The long-term outlook for China sheepmeat import demand is positive due to a large and growing affluent consumer base, seeking to consume higher quality, greater variety and nutritionally rich proteins, such as imported sheepmeat.
The ASF-driven narrowing of the price gap between pork and sheepmeat, effectively halving in the last quarter of 2019 compared to 2018, has had the effect of making sheepmeat relatively more affordable. It is likely that ASF will permanently reduce pork consumption in favour of proteins like sheepmeat in China.
While it is expected that ASF will speed up the commercialisation and consolidation of the entire livestock rearing and meat production industry in China, this process will take longer for sheepmeat than other species.
In the meantime, Australia's sheep industry needs to remain alert to the both the opportunities and volatility risk of China's sheepmeat import demand for the foreseeable future.
© Meat & Livestock Australia Limited, 2020