Beef campaigns
'Australian Beef. The Greatest' campaign - Winter 2019
The quality, versatility and ease of cooking will be promoted as a part of the Australian Beef Winter campaign.
Utilising the popular 'Australian Beef. The Greatest' platform and Brian the butcher, the campaign is centred around positioning beef recipes as the solution for quick and easy mid-week meals.
The campaign will run throughout June and July, building on the existing year-round promotion of Australian Beef. The integrated campaign will run across a number of channels, including a national TV campaign in metro and regional Australia, radio and a series of videos showcasing quick and easy beef meals.
'Australian Beef. The Greatest' campaign - Summer 2019
Brian the Butcher is back in new 'Australian Beef. The Greatest' campaign, which reinforces and promotes the provenance and high quality of Australian beef.
"Consumers are increasingly interested in where their food comes from, and so this campaign sets out to remind Australians that by choosing Australian Beef they are enjoying the freshest, highest quality and best tasting meat on earth."
The integrated campaign will appear across national TV, print, digital, social, radio and in retail outlets.
Everyday Greatness - Winter 2018
Australian Beef will be promoted as a quick and easy meal option as part of MLA's latest domestic Beef marketing campaign.
Utilising the 'Australian Beef. The Greatest' brand platform, which was successfully launched a year ago, the latest marketing activities will reinforce and demonstrate Beef's versatility and ease through different cuts and cooking methods. The campaign will offer consumers tips and recipes to make quick and easy mid-week meals using Beef.
The campaign will build on the existing year-round promotion of Australian Beef – focusing on key messages to Australian shoppers over the winter months using a number of channels including TV, radio, online, as well as 'path to purchase' promotion.

Australian Beef the Greatest - Autumn 2018
MLA has launched a fresh round of beef marketing activities under its domestic Beef marketing platform 'Australian Beef the Greatest' focusing on promoting the convenience and versatility of Australian beef – particularly as a mid-week meal option.
As part of the latest domestic beef marketing activities, TV commercials showcasing the versatility and range of cuts of Australian beef will be seen nationally utilising the successful 'Australian Beef the Greatest' creative content launched last year – as well as online and through social media channels.
New 'out of home' advertising will appear targeting consumers as they shop that is unique and targeted to each weekday – encouraging shoppers to purchase Australian beef for dinner by offering meal ideas for each night of the week.
The campaign has also partnered with celebrity cook Andy Allen, who has developed five quick and easy meal ideas that showcase the quality and convenience of Australian beef.
Australian Beef the Greatest
Australian Beef is the greatest meat on earth says MLA's new domestic Beef marketing campaign, launched in July 2017.
The main message: Australia produces the greatest Beef in the world. When it comes to taste, tenderness, flavour and quality, nothing comes close.
The new platform evolves from the previous "You're Better on Beef" campaigns and inspires consumers to reconnect with beef by incorporating messages spanning versatility, nutrition, provenance, welfare, sustainability and eating quality.
Since the launch of 'You're Better on Beef' in 2014, the beef brand in the domestic market has benefitted from a consistent strategy. It was built on research showing that after price, Australian consumers rate nutrition as the second most influential driver of protein choice. The objective of 'You're Better on Beef' was to give consumers 'permission' to eat more beef by removing barriers to consumption such as health concerns.
The new 'Australian Beef is the greatest' platform evolves these messages to ensure consumers feel proud to choose beef to feed their families.
The campaign includes a radio partnership with NOVA FM, online/social media content and a TV commercial that uses an original song, "The greatest song on earth", to remind Australians of the greatness of Beef.
The commercial starts off in a local butcher shop and cuts to famous landmarks across Australia and around the world to show how a customer's request for 'just' a rump steak fails to do justice to the greatness of Beef.
The online piece includes appearances from Aussies who embody greatness, legendary cricket commentator Bill Lawry, award-winning actor Kate Ritchie and Olympic gold medallist, Liesel Jones.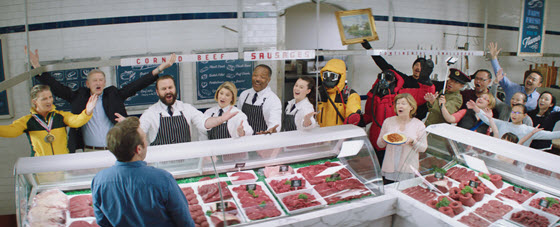 "You're Better on Beef" - Summer 2017
MLA data continues to show that 1 in 3 Australian women are not getting enough iron from their diet. While long-term brand tracking shows our consistent messaging on the nutritional front (particularly around iron) is delivering improved metrics, MLA's consumer research also shows Australians do not perceive Beef to be quick and easy to prepare. Therefore, the challenge remains to demonstrate Beef's credentials at a very practical level by reinforcing its role in the mid-week family meal.
Despite a highly successful campaign promoting the benefits of iron from red meat in the late 90's, there are a generation of Australian women who believe that the best source of iron is supplements and leafy greens. To help raise awareness and the profile of this issue, MLA's latest beef campaign enlists the services of none-other than Dame Edna – reaffirming that Beef is the best natural source of iron for busy women.
In support of the Dame Edna online video, the campaign consists of a range of assets that demonstrate how quick and easy Beef is to prepare, driving re-evaluation of our product in the mid-week meal plan. Core media channels of TV, radio and Outdoor will be supported by PR, editorial, social and retail activity.
"You're Better on Beef" - Iron Campaign
The "You're Better on Beef" Iron campaign continues to reinforce the importance of iron in women's diets.
It is a fact that women need twice as much iron as men; yet 1 in 3 Australian women are not getting enough iron from their diet. In trying to meet their higher iron needs, some women are reaching for other sources such as supplements or green vegetables, rather than Beef. And as we head towards to the tail end of the year, people can start to feel a little worn down (a common symptom of low iron levels) so this campaign is a timely reminder that Beef is the best natural source of iron.
The campaign launches with high-reaching outdoor media, placed in proximity to key retailers and butchers throughout shopping centres nationwide. Radio, online video, mobile, social media and PR activity then continue to drive home the iron credentials of Beef. The campaign also features a recipe partnership with media partner Tasty - featuring "how to cook" Beef recipe videos, showing women how easy it is to use Beef to meet their iron needs.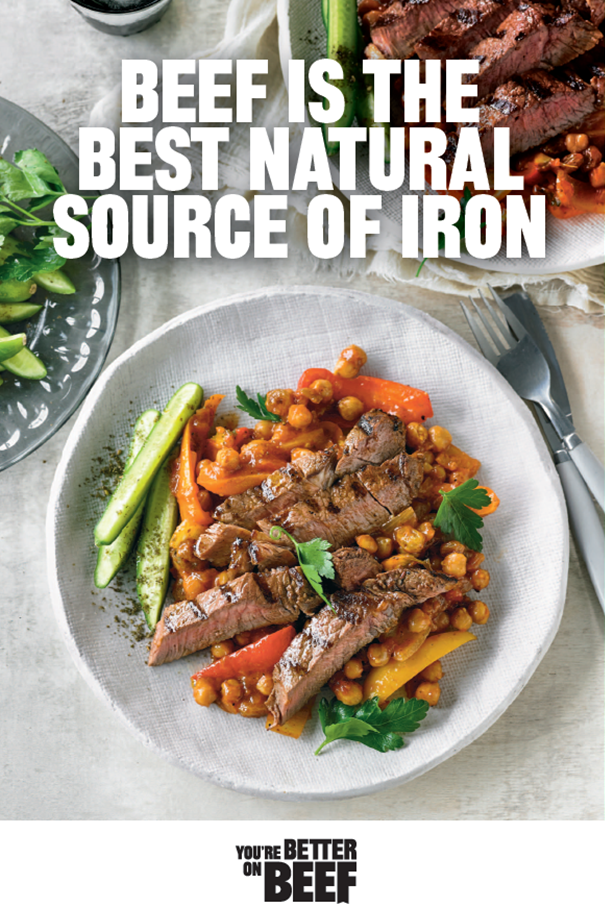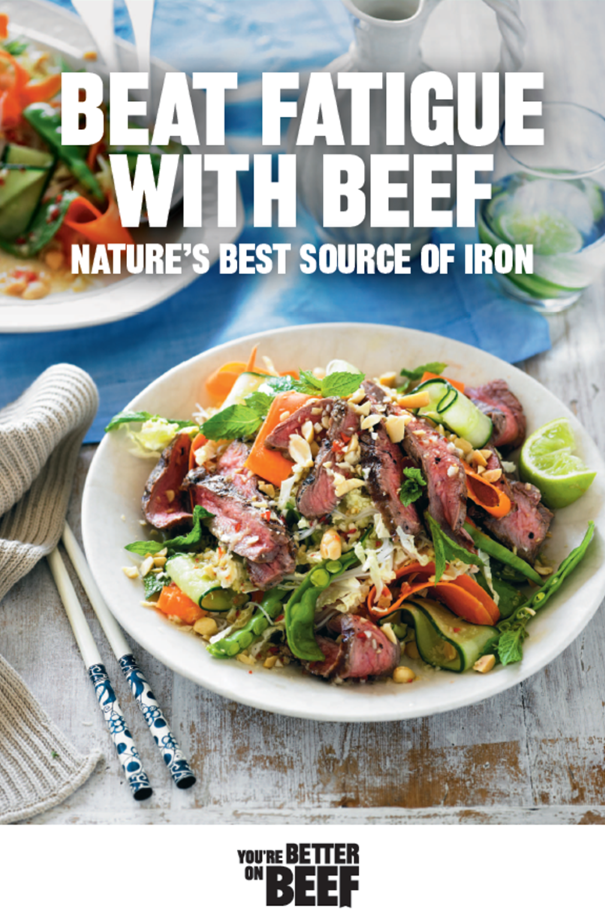 "You're Better on Beef" - Winter 2016

The Winter campaign continues to show that Beef is an essential part of a winning diet. The campaign illustrates that Beef - packed with protein, iron, and zinc - helps Australian families tackle Winter; demonstrating why you're better on Beef.
There's a focus on increasing mid-week meal frequency by showing parents how they can use a variety of Beef cuts to make quick, easy and healthy mid-week meals that will keep the family fueled throughout winter.
The campaign launched with national TV commercials, radio, advertising in shopping centres, social media, online videos, mobile advertising and integrated PR activity. It also featured integration across the major retail chains and butchers - to ensure demand for Beef is converted to sales.
With the increasingly fragmented media environment making it harder to reach people, the campaign is designed to intercept women in everyday environments - delivering a consistent Beef message that is difficult to miss.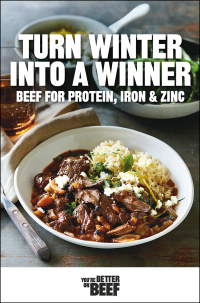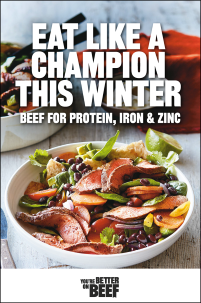 "You're Better on Beef" - March 2016
The "You're Better on Beef" campaign inspires and motivates women to serve beef to their families. This year's campaign continues to show women - the gatekeeper of the family meal - that beef is an essential part of the Australian diet; with its nutrients giving you the energy to take on the day.
An online film and 3 x TV commercials reinforce the benefits of eating Beef in overcoming the little battles Aussie women face every day. Throughout March and April, the TV commercials aired on national and regional TV, and the online film ran on digital channels such as YouTube. The campaign was also rolled out nationally across radio; as well as mobile and online display; social media, outdoor advertising; editorial, advertorial and podcast content. To convert the 'You're Better on Beef' message into sales, the campaign was also supported by in-store advertising across key major and independent retailers.
Watch the online film here and the TV commercials here: "The Contender," "The Challenger," and "The Rival."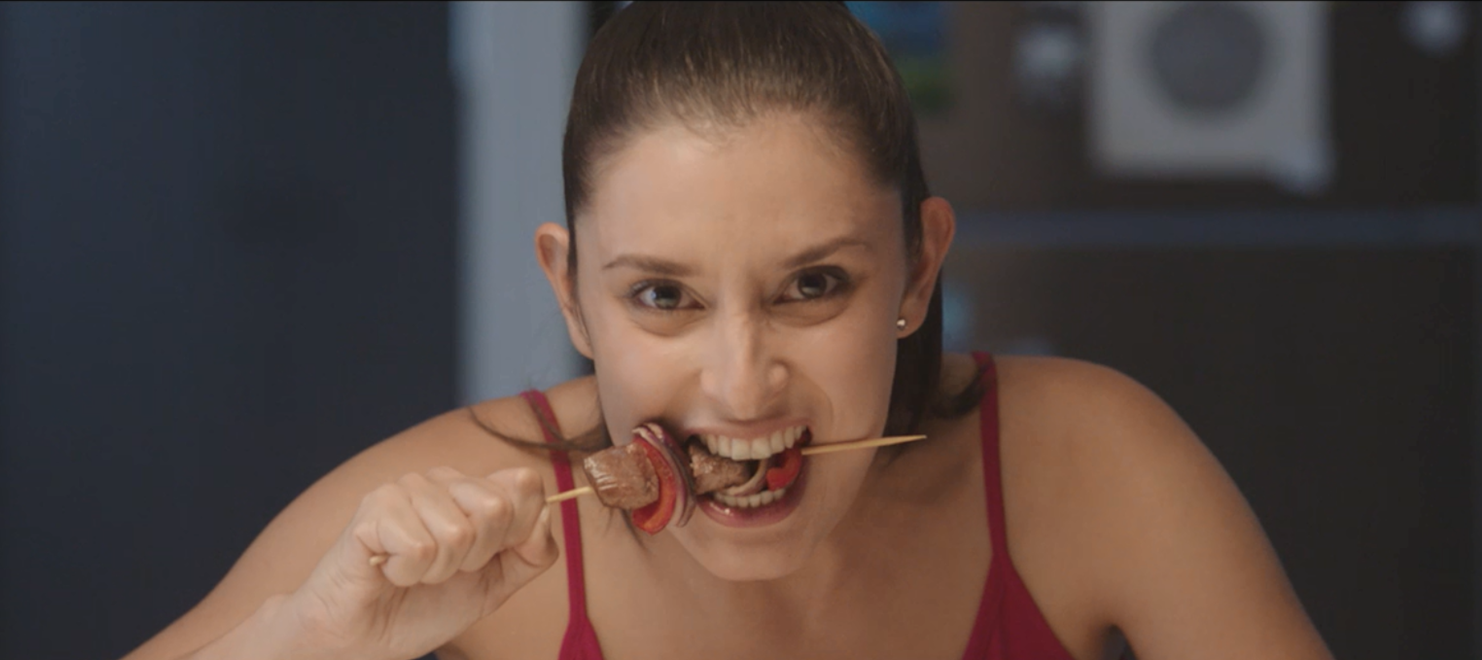 More information
For delicious beef recipes and cooking tips visit:
Join myMLA today
One username and password for key integrity and information Systems (LPA/NVD, NLIS, MSA & LDL).
A personalised online dashboard that provides news, weather, events and R&D tools relevant to you.
Customised market information and analysis.
Already registered for myMLA?