Back to

News & Events
2019 ICMJ team announced
11 October 2018
Following a comprehensive tour of the southeast Queensland meat and livestock industry, five students from across Australia have been selected for the 2019 Australian National Meat Judging Team.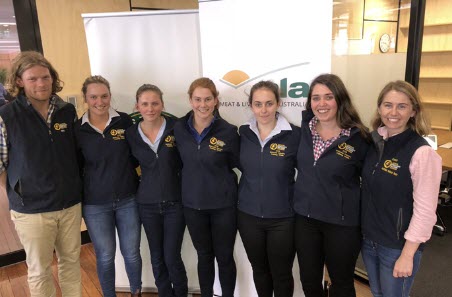 The team comprises Nikita Ellison (University of Queensland), Lauren Smith (Murdoch University), Jess Davis (University of Sydney), Felicity Brumpton (University of New England) and Jessie Phillips (Charles Sturt University).
Accompanied by coaches Dr Sarah Stewart, a meat scientist from Murdoch University and Nick van den Berg, technical director at Meat Eating Quality (MEQ) Probe, the team will travel to America in January, representing Australia in a series of meat judging competitions.
Dr Stewart said the students would also gain "in-depth insights" into the American red meat and pork supply chains as part of a month-long industry tour though Texas, Colorado, Nebraska, and Kansas, visiting some of the world's largest processors, feedlots, seedstock producers and retailers.
"This is the first time in the ICMJ competition's 30-year history that all five members of the national team have come from a different university, which highlights the strength of the program and the calibre of the students, nationally," Dr Stewart said.
The announcement came at the conclusion of the weeklong industry tour involving 19 university students, selected from the annual ICMJ competition week held in Wagga Wagga in July.
The group visited some of Australia's largest processors, feedlots and retail outlets including Australian Country Choice, JBS Dinmore, Mort & Co's Grassdale feedlot, Oakey Beef Exports, Super Butcher and SunPork.
Meat & Livestock Australia (MLA) and Australian Meat Processor Corporation (AMPC) are major sponsors of the program, which Mr van den Berg said helped to "build future leaders of the global meat and livestock industries".
"The ICMJ mission is to inspire and develop the next generation of leaders in the global meat industry, and this tour is about showcasing innovation and future opportunities available to an elite bunch of students," said Mr van den Berg.
University of New England (UNE) animal science student and member of the newly selected Australian team, Ms Brumpton said the week gave her an "intensive snapshot of the inner workings" of the red meat and pork industries.
"It's been an incredible opportunity to be exposed to all sectors of the red meat and pork supply chains and it's opened my eyes to potential future careers out there for university students like myself," she said.